Danielle Knafo (USA)
Danielle Knafo, Robert Keisner, and Silvia Fiammenghi, (eds.)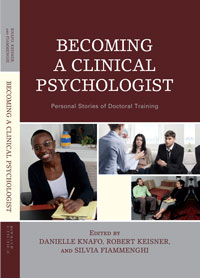 Becoming a Clinical Psychologist: Personal Stories of Doctoral Training is a collection of accounts written by a diverse group of early career psychologists and doctoral students in their final stages of training. Each of twelve authors provides a deeply personal, inside perspective on becoming a therapist. Some of these articles combine qualitative research with the author's particular experience, while others emphasize the author's personal journey as s/he moves from novice to clinician. Some of the issues that are covered include the ways in which training affects personal and professional relationships with spouses, friends, peers, faculty and supervisors, and clients; how budding clinicians deal with their own issues and feelings of inadequacy; and how trainees learn to develop the right balance of empathy and detachment in working with clients. Also unique to this collection is the diversity reflected in the contributors, which include an Orthodox Jewish gay man who "came out" during training; a black woman of African descent who found a home in the psychoanalytic approach; a white man who experienced minority status in his mostly female doctoral program; a bisexual, white woman who had to negotiate misperceptions and judgments as she moved through her clinical training; and a dissident student who came from another profession and found herself at odds with most of her professors and supervisors about the role of trauma in the etiology of mental illness. This book offers a wealth of information about today's training and trainees and will be compelling reading for those both inside and outside the field of psychology.
Contributors
Adi Avivi, Brianna Blake, Silvia Fiammenghi, Benjamin Gottesman, Noel Hunter, Dustin Kahoud, Kathleen Kallstrom-Schreckengost, Samantha Shoshana Lawrence, Matthew Liebman, Jeremy Novich, Adjoa Osei, and Ian Rugg
Reviews
"This volume provides an important adjunct to clinical training in psychology. It will be a valuable resource for both students and educators, inviting in-depth consideration of the personal challenges involved in becoming a clinical psychologist."
—Marilyn Charles, PhD, Austen Riggs Center
"This unique book provides a collection of candid, revealing, and deeply personal accounts of the trials, tribulations, rewards, and joys experienced by students undergoing training to become clinical psychologists and psychotherapists. What are the unexpected ways in which undergoing training affects relationships with friends, families, and romantic partners? What is it like to be struggling with your own personal problems while training to help others? What is it like to be the only black trainee in your training program? What is it like to be pathologized for being a man when most of your fellow trainees are women? What is it like for a gay Orthodox Jewish trainee to be struggling with 'coming out of the closet'? This book is a must-read for anyone teaching therapists, those undergoing or considering clinical training, those thinking of undergoing therapy, or those who are just plain curious about it."                                                 —Jeremy D. Safran, PhD, New School for Social Research
"Now more than ever, there is a need to articulate and strengthen our understanding of the process through which trainees transform into professional, competent practitioners. Therefore, Danielle Knafo, Robert Keisner, and Silvia Fiammenghi's Becoming a Clinical Psychologist is a welcome and timely contribution, which has the distinct merit of allowing us to hear doctoral students describing their own experience. The introduction provides a lively overview of the contemporary scene in clinical psychology, and many of the chapters focus on issues around diversity. Anyone who is contemplating entering the field, who has recently joined the field, or who has the responsibility of training students will find this book informative and helpful."
—Elliot Jurist, PhD, CUNY
Rowman & Littlefield, 2015.
https://rowman.com/ISBN/9781442239920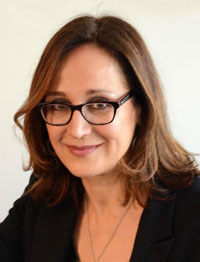 Danielle Knafo, PhD
email: Danielle Knafo
website:  http://www.danielleknafo.com
blog:  http://www.seriousmentalillness.net
blog:  http://artfromtheedge.netDanielle Knafo
DANIELLE KNAFO, PhD, is a professor in the Clinical Psychology Doctoral Program at Long Island University, C. W. Post Campus, where she chairs a concentration on serious mental illness.
ROBERT KEISNER, PhD, is a practicing psychologist and psychoanalyst and founder and former director of the Clinical Psychology Doctoral Program at Long Island University, C. W. Post Campus.
SILVIA FIAMMENGHI, PsyD, is a licensed psychologist and the staff psychologist for New York University in Florence, Italy.