Dear IARPP students, candidates, and early-career analysts,
Our next conference is approaching: From November 7–10, 2013, the members of IARPP will be gathering in Santiago, Chile for "A Meeting of Traditions: Field, Link and Matrix in Psychoanalytic Theory and Practice." We are all very excited about this wonderful opportunity to meet with colleagues and explore relational perspectives from around the world.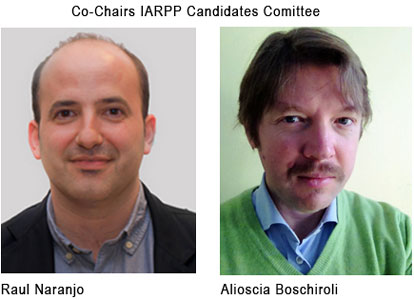 The IARPP Candidates Committee – whose members represent Australia, Canada, Chile, Israel, Italy, Spain, and the USA -works to provide a "home base" for analytic candidates within the association, facilitating their contact with colleagues throughout the world, and supporting their professional development. (To clarify: The committee considers a candidate to be someone who is either currently in analytic training or within five years of graduation, certification, or registration.) The Committee's first major endeavor was to organize a panel discussion at the 2005 conference, and in recent years, it has sponsored the Stephen A. Mitchell Author's Award, whose winners have presented their papers.
This year, in keeping with the conference's theme of exploring international crosscurrents in relational psychoanalysis, the Candidates Committee is creating a panel entitled "Working Interculturally":
What are the unique challenges of and possibilities for intercultural treatment? When the analyst and patient do not share a common heritage, nationality, first language, and/or cultural status, how and what do they create between them that promotes therapeutic insight and action?
Contemporary perspectives encourage a respect for the therapeutic significance of the specificity of each analytic dyad, and nowhere is that more apt than in cases where cultural difference is necessarily in the foreground of the treatment. In that spirit, we are asking panelists to present their clinical work with patients for whom such cross-cultural issues have come into play in significant ways.
If you have worked with someone whose background (culture, nationality, social class, religion, family background, etc.) was very different from yours, what kinds of challenges did that present? How did you try to address those challenges? And whether it worked out well or not, what did you learn from the experience?
The Candidates Committee is currently seeking proposal submissions. We are looking for three or four IARPP-member students, candidates, or early-career analysts whose work offers a rich exploration of intercultural themes and issues within analytic treatment. These 10-15 minute presentations will then be followed by a response from a senior analyst in the field, which should make for a very engaging discussion.
Interested? Then let us hear from you! To be considered for the panel, please submit a proposal no longer than one typed, double-spaced page (or roughly 250 words). Presentations can be written (and given at the conference) in either Spanish or in English.
THE DEADLINE FOR SUBMISSIONS IS TUESDAY, APRIL 30, 2013.
Once accepted by the Candidates' Committee, the deadline for turning in completed papers is July 31, 2013, so that we have enough time to line up a discussant. Please note that if you need any help with editing your final presentation, we will be glad to provide it.
Please send all questions and proposals to the Candidates Committee co-chairs:
Alioscia Boschiroli: alioscia.boschiroli@gmail.com
Raul Naranjo: raul.naranjo.psi@gmail.com
See you in Santiago!
The IARPP Candidates Committee:
Alioscia Boschiroli (Italy), co-chair
Raul Naranjo (Spain), co-chair
Kim Bernstein (USA)
Maria Jose Mezzera (Chile)
Hilary Offman (Canada)
Gadit Orian (Israel)
Annie Vidler (Australia)
Margaret Black (IARPP Board Sponsor)