By Susanna Federici-Nebbiosi (Italy)
Dear IARPP Members,
Time is slow and fast at the same time. It seems that just yesterday I became president – when Spyros Orfanos passed me the torch he had held with such skillful energy – and now I am here writing to you, my last letter in this role.
Serving as president of IARPP has been a great adventure. I have learned a lot on both the theoretical and the human levels. Sometimes it has been difficult to stay connected to all the processes that have been going on simultaneously in our organization, but it has always been exciting to be at the core of such an interesting community.
During the past three years we have chosen a new logo for IARPP, renovated the website, and consolidated the structure of our organization. Many committees were renewed, and we held the first conference ever in South America. And in June the Toronto conference gave us the opportunity to see how our thinking, as well as our clinical and professional community, have matured.
I have tried to interpret the spirit created by Stephen Mitchell and his early collaborators, an approach to the psychoanalytic and psychotherapeutic adventure that helps people to establish trusting human relationships and to hold on to that trust. That is now even more crucial considering the very difficult times in which we are living, especially in Europe.
I have tried to carry forward the IARPP vision with energy and patience. In particular, I have worked to develop the international dimension of our organization at all levels. That has meant improving the dialogue among different perspectives, as well as fostering respect for diversity in terms of race, religion, ethnicity, nationality, gender, sexuality, age, and culture.
I want to thank you all from the bottom of my heart, especially the IARPP Board, the Executive committee, the Committee members, and the New York office for the support and for the wonderful work everybody has offered to our organization during my presidency.
Finally, I'm really happy to pass the torch to Chana Ullman who will be certainly a wise and brilliant president.
As I am currently immersed in preparations for the Rome conference, I am happy to tell you that we received a lot of interest for this conference from many of you. So I would like to conclude this message by saying: Arrivederci a Roma!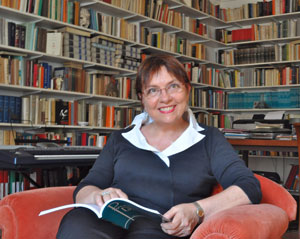 Very warmly,
Susi Federici-Nebbiosi