By Susanna Federici-Nebbiosi (Italy)
Dear IARPP Members,
In recent years IARPP has undergone some important processes to facilitate its development as our community has continued to grow in complexity and richness. These processes, taking place at various levels within our organization, all reflect the vision of our shared project. IARPP has benefited from—and indeed will continue to need—the contributions of all of us to remain creative, vital, syntonic with our time, and, most importantly, useful for our clinical work.
In my view the Toronto conference was a remarkable achievement for IARPP, a reflection of our collaborative spirit as an organization. Both the quantity and the quality of the papers that were submitted were unparalleled. Through the presentations we found ways to deepen—with passion and a collaborative attitude—a dialogue among models that are different but compatible with our relational sensibility. Although in recent decades the intersubjective dimension has been in the foreground in our literature and conversations, at this conference the intrapsychic dimension of our clinical work was highlighted. Various presenters articulated what they mean when they cast the term "intrapsychic" in relational terms, emphasizing that each person is unique by virtue of his or her individual relational history.
The interplay between the intrapsychic and the intersubjective was particularly demonstrated in the five plenary presentations. The opening plenary, Multiplicity and Unity within Relational Psychoanalysis: Convergences, Controversies, and Creative Tensions, set the stage for the conference, with Jody Davies (USA), Estelle Shane (USA), Stuart Pizer (USA), and Mark Blechner (USA) presenting on the topic of theoretical multiplicity within relational psychoanalysis. Subsequent plenaries featured the clinical work of Gianni Nebbiosi (Italy), Francesca Colzani (Chile), and Rina Lazar (Israel). These moving and beautifully presented cases were used to illustrate such themes as "in and out of mind," regression, power, and authority in relational psychoanalysis. The closing plenary raised more questions, with Malcolm Slavin (USA), Juan Francisco Jordan-Moore (Chile), and Francisco Gonzales (USA) discussing some core premises in our relational perspective as it continues to evolve.
The Toronto conference facilitated a deeper dialogue within our community, achieving its goal of expanding the clinical wisdom of relational psychoanalysis. As we endeavor to continue with that goal, I am glad to make the first announcement of our next conference in Rome, The Arts of Time: Relational Psychoanalysis and Forms of Vitality in Clinical Process. The IARPP 13th Annual Conference will be held in Rome, Italy, from Thursday, June 9, through Sunday, June 12, 2016, at the Teatro Argentina, the most important theatre in Rome, located at the core of the historical center of the city.
Please save the date and be in touch. Click here for information about the call for papers.
Very warmly,
Susi Federici-Nebbiosi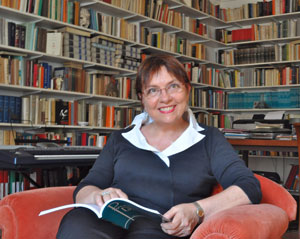 Susanna Federici-Nebbiosi, PhD
Via Tacito 7
Rome 193
Italy
Email Susanna Federici-Nebbiosi