Jill Gentile (USA)
• Parrhesia, Phaedra, and the Polis: Anticipating Psychoanalytic Free Association as Democratic Practice
• On Having No Thoughts: Freedom and Feminine Space
• The Elusive Female Signifier: Reply to Pellegrini and Harris
Parrhesia, Phaedra, and the Polis:
Anticipating Psychoanalytic Free Association as Democratic Practice
The Psychoanalytic Quarterly, Volume LXXXIV, Number 3, p. 589-624, 2015.
This essay explores the mostly unexamined analogy of psychoanalytic free association to democratic free speech. The author turns back to a time when free speech was a matter of considerable discussion: the classical period of the Athenian constitution and its experiment with parrhesia. Ordinarily translated into English as "free speech," parrhesia is startlingly relevant to psychoanalysis. The Athenian stage—in particular, Hippolytus (Euripides, 5th century BCE)—illustrates this point. Euripides's tragic tale anticipates Freud's inquiries, exploring the fundamental link between free speech and female embodiment. The author suggests that psychoanalysis should claim its own conception of a polis as a mediated and ethical space between private and public spheres, between body and mind, and between speaking and listening communities.
Link to article: http://onlinelibrary.wiley.com/doi/10.1002/psaq.12021/abstract
On Having No Thoughts: Freedom and Feminine Space
Psychoanalytic Perspectives, Volume 12, Number 3, p. 227–251, 2015.
This essay explores the semiotic mystery tour at the heart of psychoanalytic free association. Its quest is to contemplate what remains unspoken and unsymbolized by our patients' claims of "having no thoughts." The author follows associations in the psychoanalytic literature that reveal an often hidden link between having "nothing" to say and the missing presence of an obscured, if not invisible, female genital. Naming "the gaps" in free association is how we conceive and know unspeakable truths, an otherwise inconceivable reality. The "gap" or "space" in free association obscures and points to the unsignified female genital. Situated between physical actuality and spatial abstraction, the female genital is essential to free association's path and must be named. The author proposes a "feminine law," affirming the primacy of this generative, vaginal space as signifying the mysteries of female power and of unconscious knowledge.
Link to article: http://www.tandfonline.com/eprint/dHXKjBcD2is9kbaWAvg7/full

The Elusive Female Signifier: Reply to Pellegrini and Harris
Psychoanalytic Perspectives, Volume 12, Number 3, p. 266–274, 2015.
I read the discussions by Pellegrini and Harris in light of my interest in tracking associations that tell the story of the missing, unsignified female genital. Both discussants offer rich associative trails inspired by my essay's exploration of the silences, the gaps, the "nothing," that psychoanalytic free association and its literature reveals. Pellegrini's telling of the story by which Freud came to project unwanted associations of a castrated Jewish male onto female sexuality further illuminates the female genital's obscured story. But Pellegrini also shifts her gaze from it, by reminding us of a more familiar symbol, the castrated phallus; and she shifts the focus from the female genital's obscured symbolic status to the obscuration of the Jewish female. Harris suggests lines of division in our thinking and offers cautionary notes. However, we actually share many concerns regarding the symbol's inevitable links with female bodily materiality and with enduring cultural signifying baggage. Metaphorizing the female genital offers us a possibility of moving beyond trading in binaries by opening a symbolic space between what is material and immaterial, accessible and inaccessible.
Link to article: http://www.tandfonline.com/eprint/SD4ru4267aEk49U4I27I/full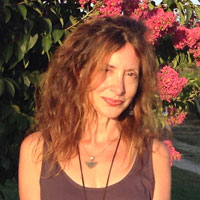 Jill Gentile, PhD
26 West 9th Street, Suite 10A
New York, NY 10011
307 Raritan Avenue
Highland Park, NJ  08904
Email Jill Gentile
website: http://tinyurl.com/jillgentile