By Steve Benson (USA)
Steve Benson published a chapbook in January 2016 through an on-line press that presents innovative, culturally relevant work in poetics. Ordinarily, a chapbook is a short saddle-stitched book with a set of poems along with perhaps an introduction. Essay Press publishes chapbooks digitally, such that they are easily read on the internet, where they appear to resemble a traditional chapbook, pages turning on a mouse click.
In this case one long poem, What Are These Signals From?, takes the form of a series of questions and answers, as though it were a conversation or interview, although the speeches are not attributed to a speaker. The resulting dialogue touches on existential, personal, social, and artistic issues, documenting a creative process as it occurs moment to moment. The chapbook appears at http://www.essaypress.org/ep-49/. No membership, registration, or fee is required to read or download this work.
Steve Benson, PhD, keeps tabs on his online writing and other projects here. His previous chapbooks include Steel Idea (Miam), The Busses (Tuumba), Briarcombe Paragraphs (Moving Letters), Dominance (The Coincidence), the ball (ubu), and the forthcoming Time Squared (Trafficker). He collaborated over a 10-year period with 10 friends to write The Grand Piano: An Experiment in Collective Autobiography / San Francisco, 1975-1980 in 10 volumes. Since 1996, he has co-parented two offspring and worked as a clinical psychologist in Downeast Maine.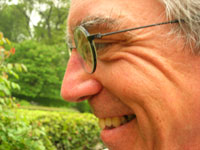 Stephen Benson, PhD
PO Box 1257
Blue Hill, ME 04614   USA
Email Stephen Benson