Susie Orbach and Jane Haberlin in Greece
On the longest day of the year we arrived in Athens to do a two day workshop for a group directed by Stavros Charalambides for his colleagues and trainees. They've been studying with Spyros Orfanos for a good while now and although from the cognitive analytic tradition they have re-situated themselves as relational psychotherapists doing individual and group therapy.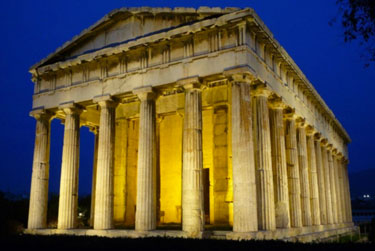 The night we arrived, a founder member of IARPP Greece, Niovi Michalopoulou came to fetch us and take us to dinner at Alexis Mordoh's beautiful home. When she asked who had invited us we were perplexed. We had assumed it was them. It wasn't. To discover that there were two relational groups in Athens was exciting and members of IARPP joined the two day intensive workshop organised by the Charalambides group.
The standard of both groups was high (not surprising since they've both been training with US Relationals) and the work was stimulating. It was very painful to see the results of austerity and the surrounding of the public broadcaster's transmitter by military police, but the hospitality and intellectual endeavour was marvellous and the Acropolis and Parthenon inspiring.
Susie Orbach and Jane Haberlin