By Hilary Offman (Canada) and María José Mezzera (Chile)
Co-chairs of the Candidates' Committee
IARPP and the members of the Candidates' Committee are pleased to announce an upcoming webinar for candidates and early career analysts, "Dialectical Constructivism," led by Irwin Z. Hoffman. The webinar will take place from January 11-31, 2016.
Irwin Z. Hoffman describes his aim and focus in the colloquium as follows:
"In this webinar, we will study the essential elements of a perspective on the psychoanalytic process that I've called 'dialectical constructivism.' Among the features of this viewpoint to be highlighted will be its integration of existential and more traditional psychoanalytic ideas, although even the 'traditional' is understood largely within a 'relational' paradigm. Experience is ambiguous and therefore fertile ground for multiple plausible interpretations and a wellspring for many value-laden choices. As a function of the ritual asymmetry of the analytic situation combined with the patient's transference disposition, the analytic therapist has special power to overcome the malignant influence of early bad object ties, even as they are played out within the analytic relationship, and to affirm the patient as a responsible, creative agent in that very relationship and in the world. What I am reacting against when I underscore the responsible agency of the participants are very deeply entrenched concepts that reside at the core of the psychoanalytic tradition. In particular I am thinking of concepts such as psychic determinism, free association, and evenly hovering attention, all of which serve the pursuit of an illusory 'objective' truth while radically limiting the responsibility of the participants for their value-laden choices. At the heart of my viewpoint is the importance of thinking in terms of dialectical relationships inherent in many apparent polarities, such as ritual and spontaneity, analytic authority and a climate of mutuality, construction of meaning and awareness of mortality. We will be looking at clinical examples of how these might emerge in the course of analytic work."
Readings will include chapters from Ritual and Spontaneity in the Psychoanalytic Process: A Dialectical-Constructivist View, as well as articles including "At Death's Door: Therapists and Patients as Agents," "Forging Difference Out of Similarity: The Multiplicity of Corrective Experience," and "Therapeutic Passion in the Countertransference." Translations are also available in Italian.
Webinars sponsored by the Candidates' Committee are designed to provide candidates and early career analysts with opportunities to learn from some of the most accomplished members of our community, as well as a chance to interact with an international group of peers.
Online registration begins December 28, 2015. This webinar is limited to 75 participants. Admission is open to candidates and those who have completed analytic training within the past five years. We welcome those for whom English is not a first language. IARPP webinars are free for first-time registrants. For those who have participated in any of our prior web seminars, a nominal registration fee of $10 will be charged, payable by credit card. An email with instructions to register will be sent to all IARPP members on December 28th. Readings will be provided to all registrants.
Irwin Z. Hoffman, PhD, is faculty at the Chicago Center for Psychoanalysis, the National Training Program in Contemporary Psychoanalysis, and the NYU Postdoctoral Program in Psychotherapy and Psychoanalysis. Since his book in 1998, Ritual and Spontaneity in the Psychoanalytic Process, advancing his "dialectical-constructivist" view, he has explored new frontiers of this perspective centering on the responsibility of patient and analytic therapist as moral agents in the analytic work and in the world. He has recently extended his critique of positivism in psychoanalysis to the unwarranted special authority that many would accord systematic empirical research on psychoanalytic process and outcome. Dr. Hoffman is in private practice in Chicago.
Hope to meet you in the seminar group!
Sincerely yours,
The members of the IARPP candidates committee:
Hilary Offman, Co-chair (Canada)
Maria José Mezzera, Co-chair (Chile)
Kim Bernstein (USA)
Gadit Orian (Israel)
Sandra Toribio (Spain)
Fabia Banella (Italy)
Margaret Black Mitchell (IARRP Board Liaison)
Irwin Z. Hoffman, PhD
25 E. Washington Street
Suite 1203
Chicago, IL  60602  USA
Email Irwin Z. Hoffman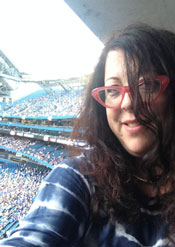 Hilary Offman, MD, FRCPC
121 Balmoral Avenue
Toronto, Ontario M4V 1J5  Canada
Email Hilary Offman
María José Mezzera, PsyD
Napoleón 3565, of. 910
Las Condes, Santiago  Chile
Email María José Mezzera