clic aqui para el español

With the objective of establishing a relational bridge between psychotherapists and psychoanalysts from Spain and Mexico, we are pleased to announce two programs featuring Dr. Rosa Velasco Fraile, President of IARPP-Spain, Member of the SEP (IPA); and Dr. Ramón Riera i Alibés, Honorary President and co-founder of IARPP-Spain.
First, in Mexico City the Mexican Psychoanalytic Association (APM) and the University of the Americas will present a workshop entitled "Supervision in Relational Psychoanalysis," taking place June 1 through 3, 2017. During this program the presenters will discuss concepts from Ramón Riera i Alibés' book, Emotional Connection. Additionally, this presenters will discuss psychotherapeutic work from a relational psychoanalytic through the work of Salvador Dalí.
Following that workshop, another program will take place on June 8 and 9 in Puerto Vallarta, Mexico, in which Dr. Ramón Riera and Rosa Velasco will discuss clinical work with Dr. Isabel Medina, a psychiatrist, family therapist, and IARPP member. The discussion will focus on care for families with systems of pathological accommodation, and will include HIF analysis (hour of filmed interaction).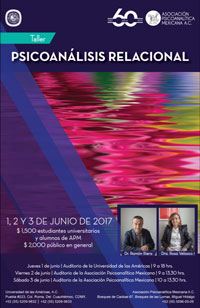 Link: http://asociacionpsicoanaliticamexicana.org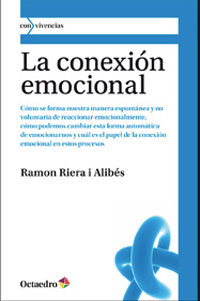 Link to Riera's book: http://www.octaedro.com/es/autor:Cos/43948
Coordinators of these events are: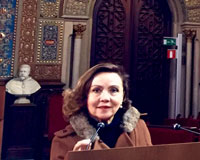 Dra. Maria Isabel Medina Hernandez
Puerto Vallarta, Mexico
Email Maria Isabel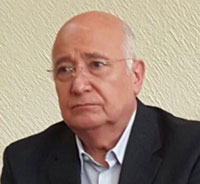 Dr. Félix Velasco Alva
Mexico City, Mexico
Email Felix Valasco Alva
Con el objetivo de establecer un Puente Relacional con psicoterapeutas y psicoanalistas de España y México, les participamos la presencia de, Dra Rosa Velasco Fraile Presidenta de IARPP-España, y Dr. Ramón Riera i Alibés, Presidente de honor de IARPP-España.
En la Ciudad de México, invitados por la Asociación Psicoanálitica Mexicana (APM) y la Universidad de las Américas: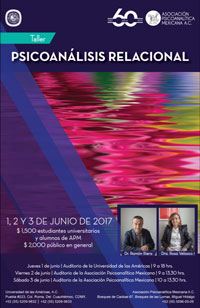 Taller: Supervisión en psicoanálisis relacional; presentación del libro, Conexión emocional, autor Ramón Riera i Alibés; trabajo psicoterapéutico desde una perspectiva relacional psicoanalítica a través de la obra de Salvador Dalí. Fecha: Junio, 1-3, 2017.
Programa:
El psicoanálisis relacional es la emergencia de una tradición que se originó ya en los primeros años de la historia del psicoanálisis con autores como Ferenczi. Desde entonces, diversas perspectivas psicoanalíticas (interpersonal, relaciones de objeto, psicología del self), que no han formado parte de las corrientes principales del psicoanálisis, han ido conceptualizando y desarrollando las teorizaciones relacionales. Con el impulse integrador de Stephen Mitchell, estas distintas perspectivas relacionales se han agrupado bajo el paraguas general de lo que hoy en día denominamos Psicoanálisis Relacional.
Con el desarrollo del Psicoanálisis Relacional, el énfasis, que estaba puesto en las pulsiones y sus vicisitudes, pasa a recaer en las relaciones que modulan el desarrollo emocional. El cambio psíquico, tradicionalmente vinculado al insight a través de la interpretación verbal, es entendido como el resultado de las nuevas experiencias en la relación terapéutica.
Link: http://asociacionpsicoanaliticamexicana.org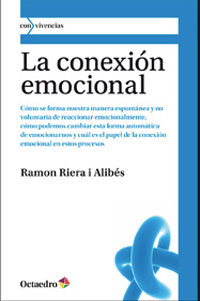 Link to Riera's book: http://www.octaedro.com/es/autor:Cos/43948
*En la Ciudad de Puerto Vallarta, Taller: Trabajo Clínico con Dr. Ramón Riera, Dra Rosa Velasco, y Dra Isabel Medina.
La interacción en análisis—HIF (hora de interacción filmada)
Los sistemas de acomodación patológica
Fecha: 8 y 9 Junio 2017
Coordinadores: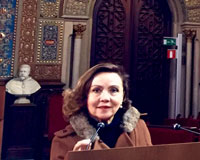 Dra Maria Isabel Medina Hernandez
Puerto Vallarta, México
Email Maria Isabel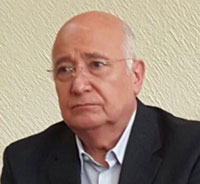 Dr. Félix Velasco Alva
Ciudad México
Email Felix Valasco Alva