By Chana Ullman (Israel)
Dear IARPP members,
This is my last letter to you in my role as President of IARPP. It is written with an intense mixture of emotions – pride, warmth, and gratitude – for the opportunity and honor of serving our internationally diverse, growing, and lively organization.
I feel proud as I look back at the many accomplishments of the past two years. I am pleased to note that we have been investing more funds and efforts to reach out to our members. Beginning at our magnificent 2016 conference in Rome, we have been offering stipends to help younger and diverse groups of professionals attend our conferences. This is a commitment that the board has undertaken for all future conferences, and we are currently reviewing applications for our upcoming conference in New York City.
We have also been working to enhance communication, to overcome language barriers, and to foster participation of the international community at large, managed by the new Membership Committee. And the fruitful work of building our international chapters continues, thanks to the International Chapters Committee, with three new IARPP chapters formed over these past two years.
The vigor of IARPP as an intellectual and professional endeavor has also been enhanced. This has been achieved by three new developments. First, following the loss of our esteemed and beloved founding member, Muriel Dimen, we now offer a fellowship in her name, with the goal of enriching interdisciplinary, scholarly interchange at our conferences.
Second, the political changes and disastrous events producing suffering and oppression around the world have moved many of us to have an increased focus on the psychoanalytic understanding of current events. We are currently in the process of forming a new committee, Psychoanalysis and the Collective, responding to these interests shared by so many of our members. Like with our Child, Adolescent, and Parent Psychotherapy Committee, which allows those with a common interest to find a voice within IARPP, this new initiative will provide the platform to explore and exchange ideas about the sociopolitical, environmental, and other aspects of our collective lives.
And, most recently and very dear to my heart, we are launching the Relational Voices section of our IARPP website.  Under the competent leadership of Susi Federici-Nebbiosi (Italy), our Past President, and her committee, Relational Voices features interviews with leading relational thinkers that all members can access and view. With four interviews already available, this is the beginning of a treasure box of relational wisdom that will continue to grow in the future.
Last but not least, the past two years have seen the culmination of efforts to consolidate our democratic governing structure, with a final version of our bylaws recently approved. This end result rests on a long-term process started by a group of IARPP founding members. It was moved forward by Spyros Orfanos (USA) and the Bylaws Committee, chaired by Tony Bass (USA), and by the dedicated contribution of my predecessor, Susi Federici-Nebbiosi.
I am grateful to my colleagues on the Executive Committee and on the board whose steadfast guidance and support have enabled these developments, and who have made my role navigating IARPP pleasurable and smooth. It has been a great honor to work in the company of such brilliance and integrity.
During these two years as president I have been touched and amazed by the collective wisdom, the clinical depth, and the caring and humane, albeit challenging, spirit of our community. Along with so many of us who traveled around the globe, I witnessed the innovative contributions of new voices and of our celebrated thinkers at our international conference, held for the first time in Sydney, Australia.  And our often profound and always gripping online colloquia continue to draw us in, forming a large group deeply connected by minds and hearts.
There is so much more to acknowledge and appreciate. The Candidates Committee has ensured that candidates have an ever increasing, exciting role at our conferences.  And the webinars are fully booked due to the great work behind the scenes of the Webinar Committee and the many presenters and moderators who share their time and expertise in this unique learning format. To the many IARPP members who are willing to undertake challenging and time consuming roles serving as chairs and committee members, I am thankful to you for implementing the functions and goals of our organization. Many thanks also to Christina Emanuel (USA) and Maria Tammone (Italy) for their remarkable work as editors of these eNews.
Our office in New York City is skillfully run by Executive Director Valerie Ghent and Administrator Elisa Zazzera, both of whom have been a constant source of reliable and knowledgeable help, along with Lucia Lezama, our Continuing Education Program Coordinator.
I have cherished the opportunity to work with all of you.
Along with the pride, gratitude, and warmth in looking back, I feel relief and confidence in IARPP's future, as I pass the torch to our generous and creative incoming president, Steven Kuchuck (USA).
I wish us all around the globe peace and courage in the new year, and I look forward to meeting in New York City next June.
With warm appreciation,
Chana Ullman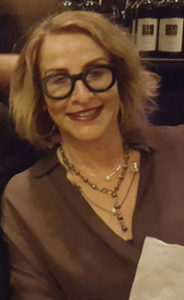 Chana Ullman, PhD
17 Neve Matz
Rehovot 76100. Israel
Email Chana Ullman