Clicca qui per la versione Italiana
Dear IARPP members,
I wish to begin by saying that it is truly an honor for me to serve as your new president and that I hope to be able to carry forward the valuable work done by Spyros and my predecessors with energy and enthusiasm. I take the opportunity offered by the newsletter to inform you, on behalf of the Board, about the most important initiatives we are working on.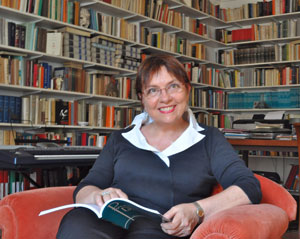 We recently concluded the process of choosing a logo for IARPP, which you can see on this letter. I hope that you like it and that it can help to make our association distinguishable in our communications. We have also begun to redesign the website in order to make it more user friendly and representative of the vitality that characterizes our community.
The Local Organizing Committee and the International Program Committee are working hard on drawing up the program of the annual conference which, as you know, this year will take place in Santiago, Chile from November 7 to 10. Following the call for papers we received 150 applications, which confirms the importance of this conference in response to the growing interest towards relational models registered also in the South American psychoanalytic context.
In preparation for this "meeting of traditions," Galit and Steve, the colloquium coordinators, have scheduled, from September 23 through Sunday October 6, a colloquium on the contribution offered by H. Racker, a leading figure in Argentinian psychoanalysis and a profound innovator on the subject of countertransference. In order to give continuity to the discussion that will get underway online, we decided to create a space within the program of the Santiago conference in which to carry on the debate.
In the first ten years of work it was not possible to organize our annual conference during a set time of the year. This was often due to the fact that we did not want it to overlap with other important conferences, but, even more so, in order to adapt ourselves to the calendar of the different geographical areas in which the past conferences were held. That is also the main reason why we will be meeting in Santiago in November. In the light of the previous years of experience, we recently made the decision to set May/June as the time of the year in which to hold the IARPP annual conference on a regular basis. Since it will not be possible to plan another conference just six or seven months after the one in Santiago, in 2014 we will rely on the vitality and wealth of online events that over the years have stimulated such a wide and active participation, thus availing ourselves of a medium that has proven to be so important in building up our community.
I am especially pleased to announce here the next IARPP conferences scheduled for the coming years.
In June 2015 we will meet in Toronto, Canada.
In May/June 2016 we will gather again in Rome, Italy.
In May/June 2017 the conference will be held in Sydney, Australia, thanks to the collaboration of the Local Chapters that have been in place for some time now in Australia and New Zealand.
Relationality, as it was formulated in the model introduced by Stephen Mitchell and carried forward by the many important authors who form part of the IARPP community, seems to respond to the spirit of the times and to the need to practice psychoanalysis and psychotherapy in ways that are closer to the people and needs of contemporary society.
I would like to conclude this brief communication with an invitation to participate in the next colloquium that will be held on May 6 to 19 and will discuss Irwin Hoffman's, "Therapeutic Passion in the Countertransference." It promises to be a stimulating and thought provoking experience!
Very warmly,
Susi Federici-Nebbiosi

click here for english version
Cari Membri IARPP,
Innanzi tutto vorrei dirvi che è davvero un onore essere il vostro nuovo presidente e che spero di saper proseguire il prezioso lavoro di Spyros e dei miei predecessori con energia ed entusiasmo.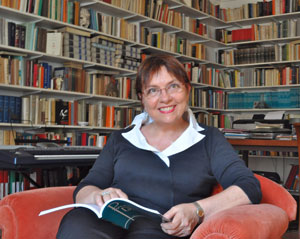 Colgo l'occasione della newsletter per informarvi –a nome del Board- sulle iniziative più importanti alle quali stiamo lavorando. Abbiamo recentemente concluso il processo che ha condotto alla scelta di un logo per la IARPP -lo potete vedere già in questa lettera- spero che vi piaccia e che possa favorire la riconoscibilità dell'Associazione nelle nostre comunicazioni. Inoltre abbiamo avviato la revisione del sito web per renderlo più fruibile e rappresentativo del fermento che caratterizza la nostra comunità.
Il Comitato organizzatore Locale e il Comitato Internazionale per il Programma stanno lavorando intensamente per definire il programma della conferenza annuale che come sapete quest'anno si svolgerà a Santiago in Cile dal 7 al 10 Novembre. Al call for papers sono stati inviati più di 150 lavori a conferma dell'importanza di questa conferenza come risposta all'interesse crescente che anche il mondo psicoanalitico sud-americano sta manifestando verso i modelli relazionali. Per prepararci a questo "incontro di tradizioni" Galit e Steve -coordinatori dei Colloquiums- hanno programmato dal 23 Settembre al 6 Ottobre un Colloquium sul contributo di H. Racker, figura di primo piano della psicoanalisi argentina e profondo innovatore sul tema del controtransfert. Per dare continuità alla discussione che si avvierà online abbiamo pensato di riservare uno spazio nel programma della conferenza di Santiago dedicato al proseguimento del dibattito.
Nei primi dieci anni di attività non è stato possibile mantenere un periodo stabile in cui organizzare la nostra conferenza annuale. Spesso ciò è avvenuto per non sovrapporsi ad altre importanti conferenze, ma soprattutto per adeguarsi al calendario delle diverse aree geografiche in cui si sono tenute le passate conferenze. Questo è anche il motivo principale per cui ci troveremo a Santiago in Novembre. Alla luce dell'esperienza di questi anni, abbiamo recentemente deciso di scegliere il periodo Maggio/Giugno come momento dell'anno in cui stabilmente si svolgerà la conferenza annuale IARPP. Dato che non è possibile prevedere una conferenza a distanza di soli sei/sette mesi da quella di Santiago, per il 2014 confidiamo nella vitalità e nella ricchezza degli eventi online che in questi anni hanno stimolato una partecipazione tanto numerosa e attiva, rivelandosi così un mezzo prezioso nella costruzione della nostra comunità.
Sono particolarmente contenta di poter annunciare fin da ora la programmazione delle conferenze IARPP per i prossimi anni.
Nel Giugno 2015 ci incontreremo a Toronto in Canada.
Nel Maggio/Giugno 2016 ci ritroveremo a Roma in Italia.
Nel Maggio/Giugno 2017 la conferenza si svolgerà a Sidney in Australia grazie alla collaborazione dei Local Chapters che da tempo si sono formati in Australia e in Nuova Zelanda.
La relazionalità così come è stata fomulata nel modello iniziato da Stephen Mitchell e portata avanti dai tanti importanti autori che costellano la comunità IARPP sembra rispondere allo spirito dei tempi e alla necessità di praticare la psicoanalisi e la psicoterapia secondo modalità più vicine alle persone e alle esigenze della vita nella società contemporanea.
Voglio concludere questa breve comunicazione con l'invito a partecipare al prossimo Colloquium che si terrà dal 6 al 19 Maggio e si focalizzerà sulla discussione dell'articolo di Irwin Hoffman "Therapeutic Passion in the Countertransference", promette di essere un'esperienza davvero interessante!
A presto
Susi Federici-Nebbiosi