Richard Chefetz (USA)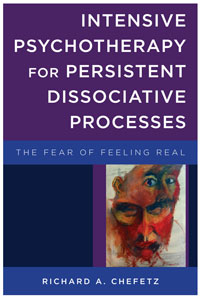 Contemporary research offers some insight, but only some, into the puzzles of dissociative process gone awry. When dissociative processes are overly active in a person's life they create a burden that is palpable and yet hidden from view. This book maps out a straightforward model of dissociative process, relying heavily on clinical work and guided by studies of attachment, affect theory, neuroscience, psychoanalytic studies, and psychotraumatology. It attempts to frame dissociative process in a way that makes it more visible, if only we stop to look for the little curls of experience that can teach us so much.
This book is divided roughly in half. The first part introduces the reader to dissociative processes, the vicissitudes of self-states, the beginnings of treatment, the politics of emotion, and the underlying neurobiology relevant to these domains. The second part of this book constitutes an immersion in difficult and challenging clinical process, in sexual addiction, countertransference driven impasse, negativity and negative therapeutic reactions, and enactment.
CONTENTS
Preface: Holding Hope
A Mind Hiding from Itself
Life as Performance Art: The Search for Felt Coherence
Recognizing Dissociative Experience and Self-States
Opening a Treatment for Persistent Dissociative Processes
Affect, Neurobiology, and Dissociative Processes
Fear and Depersonalization
Incest, Sexual Addiction, and Dissociative Processes
Waking the Dead Therapist
The Unconscious Fear of Feeling Real: Negativity and the Negative Therapeutic Reaction
Object-Coercive Doubting
In the Throes of an Enactment
Emerging from an Enactment
Reviews
"It is hard to endorse this book without gushing. Richard Chefetz, a master teacher on dissociative phenomena, integrates scientific sophistication with in-the-trenches clinical mastery. His eloquent writing – synthesizing theory and practice, mind and body, left- and right-brain processes, research and application, science and art – exemplifies the healing integration sought by every therapist familiar with dissociative disorders. Verbatim case material illuminates clinically familiar but devastating topics. I recommend it to anyone seriously interested in the treatment of fractured minds and defeated hearts, including researchers, therapists, students, and patients dealing with the agonies of traumatized lives."
– Nancy McWilliams, PhD
"Richard Chefetz, arguably the most astute and sophisticated mind in the field of trauma and dissociation, has written his promised book, and it is a "must-read" beyond the usual meaning of the term found on a back cover. Feeling Real: Intensive Psychotherapy for Persistent Dissociative Processes is a journey into the mind and consulting room of a master clinician, scientist, and educator in which he accompanies you personally. A reader surfaces from this experience, knowing first hand why "working" with dissociative processes as part of a personal relationship is the most robust and far-reaching context for healing and growth. Chefetz writes: "Dissociation is mostly not about dissociative disorders. It is about how a mind struggles to cope with the intolerable and unbearable." As both a traumatologist and a psychodynamic clinician, Chefetz has built a bridge that links the two through exploring the joint dissociative processes that take place as part of the patient/therapist relationship. Discussing what he calls "the politics of emotion" between himself and his patient "Alice," he comments, "No particular theoretical understanding or technique is a substitute for the power of our relationship to provide a safe space in which Alice, and I, learn and grow. Go ask Alice." In Chefetz's words, "attention to moment-to-moment process . . . pays much larger long term dividends than anything else. In talking about dissociative process, abstract concepts have their place. That place is not the consulting room."
– Philip Bromberg, PhD
Published by W.W. Norton (2015).
Link: http://books.wwnorton.com/books/Intensive-Psychotherapy-for-Persistent-Dissociative-Processes/ Reference promotional code FEELREAL for a 20% discount.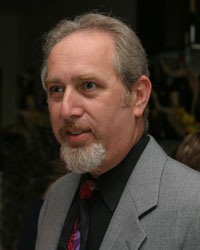 Richard A Chefetz, MD, is a psychiatrist in private practice in Washington, DC. He was President of the International Society for the Study of Trauma and Dissociation (2002-3), and is a Distinguished Visiting Lecturer at the William Alanson White Institute of Psychiatry, Psychoanalysis, and Psychology. He is a faculty member at the Washington School of Psychiatry, the Institute of Contemporary Psychotherapy & Psychoanalysis, and the Washington Center for Psychoanalysis.
Richard A. Chefetz, M.D.
4612 49th St., NW
Washington, DC 20016
email: Richard Chefetz