Interview by Christina Emanuel (USA)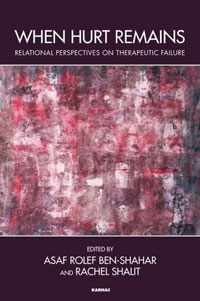 Asaf Rolef Ben-Shahar (Israel) and Rachel Shalit (Israel) have recently published their new book, When Hurt Remains:  Relational Perspectives on Therapeutic Failure (Karnac, 2016), a co-edited volume in which fifteen psychoanalytic writers take up an underdiscussed topic, clinical failure. They have graciously agreed to be interviewed for the IARPP Bookshelf and eNews.
Christina Emanuel:  Thank you, Rachel and Asaf, for your willingness to participate in this interview for the IARPP eNews.  And congratulations on the publication of your new book!  I think writing and talking about therapeutic failure is an audacious and necessary endeavor, probably not one for the faint of heart, and clearly something about which you both feel very deeply. Could you share a bit about how this book came to be?
Asaf Rolef Ben-Shahar: Thank you Christina. About ten years ago I attempted the same project with very little response from potential writers. I had read a few books about therapeutic failure, and, while I learned a lot from them, I was nonetheless left feeling like a failure myself. This time around I wanted help, particularly since my personal life was so hectic, and so I reached out to Rachel. When approaching writers to contribute to our book, Rachel and I were looking for those who would be willing to share raw, sometimes unprocessed – perhaps even unprocessable – failure. If Mitchell was right in stating that therapeutic relationships are much more like other relationships than we realize, then it makes sense to think that therapeutic relationships sometimes go through turmoil too—and sometimes this turmoil is irreparable. Perhaps I was looking for a place to feel more normal, both as a person and certainly as a psychotherapist.
Rachel Shalit: I was drawn to Asaf's ideas. In my previous profession I advised organizations on improving their professional practices by fostering an atmosphere of learning from failures (as well as successes), in order to become "learning organizations." In my view this is the best way for individuals and organizations to grow and evolve. However, unfortunately, I found this dialogue missing in the psychoanalytic field.
What has your collaboration been like as co-editors?
Asaf: Selecting Rachel to be my co-editor was a natural choice as she possesses skills that I am lacking, and we complement one another well. The editorial work itself was fascinating as we had the privilege of working with writers who have shared not only their professional expertise but also their human vulnerability. So our collaboration was a humbling process for me.
Rachel: Since Asaf and I go back a long way, it was a pleasure to have this baby as our co-creation. We worked as a team in which each of us contributed our individual strengths and gifts.
You have assembled an all-star international cast of contributors to this volume, many well-known and some newer voices. I'm wondering what responses you received from writers who were invited to contribute to a volume on analytic failure. I can imagine that many might be reluctant to expose their work in such a vulnerable way. It's one thing to deconstruct a benign enactment for an audience, but it's an entirely different thing to describe a clinical failure.  
Asaf: As I mentioned above, my first attempt at this project was quite a failure, with very few responses to my invitation to contribute. And most of those who did respond were reluctant to participate. This time around, however, more people responded positively to my invitation to write about therapeutic failure. Most contributors in our book are well established and highly esteemed in our profession. I imagine that it might be easier to allow more of the shadowy and wounded aspects of practice to be seen when you are recognized and valued. However, perhaps the willingness of the authors to share these aspects of their clinical practice is a sign of not only clinical and personal maturity but also a maturity of the profession. I believe the influence of relational theory and, with it, the inevitable influence of the therapist's subjectivity, has impacted our professional milieu, inviting and allowing this willingness to share and admit failure.
Rachel: Truly said Christina, and yet, surprisingly, most of the therapists we approached for our book were curious about the challenge and willing to take part. We believe that it's a sign of maturation in our field.
One of the most moving sections of your book is Asaf's conversation with Muriel Dimen, who, as most of our readers probably know, recently passed away. I love this quotation from her: "One of the elements of psychoanalytic work and any kind of serious work is learning from your errors. I have learned that there's a certain state of mind that needs to be maintained and I can be increasingly sensitive to it, and when I feel that state of mind collapsing, I know that's a sign to check myself and check what I am saying and what I'm about to say. That state of mind is a suspension between action and deadness, like the surface tension of a drop of water at the edge of a glass, how it hangs there." That is such a beautiful metaphor, one I can keep with me and easily use. Asaf, could you please share a bit about your experience interviewing Muriel?
Asaf: Muriel agreed to write a chapter for the book and then withdrew her agreement. Upon nudging, she admitted that she wasn't well and had less energy than she would have liked, but then agreed to participate in our recorded dialogue which I offered to edit into a chapter. By the end of the dialogue she asked me to not edit any of it, but instead to keep it alive and dialogic. That was my overall experience of my interactions with Muriel: she required courting, she did not immediately give of herself. But when she did engage—when she was satisfied that she could be met—she really brought herself fully. So in our interaction she was embodying the same tension she spoke of, between action and deadness, in more ways than one. Muriel and I were supposed to teach together in a three-day seminar in Italy during the summer, which didn't happen in the end. I am very sad to have missed an opportunity to work alongside Muriel.
Rachel: I also find the metaphor of a drop at the edge of the glass precise and fascinating. For me it describes very well the electric tension of the third and the sensitivity of the dyadic situations we encounter in our clinical work. Sadly, Muriel didn't have the chance to develop this metaphor further.
I was most taken with the chapters in which writers talk about their most painful moments, clinical situations in which shame and failure are immediately adjacent. Matthias Wenke writes about his experience of a "painful collusive enactment of technique taking over the therapist and the therapeutic process." He writes, "I feel hot, dirty, and like a miserable charlatan, as if I have wasted their time, and I expect their feedback to destroy me." I must admit that I do know that feeling! And Shai Epstein poignantly writes, "I am still fighting for my right to fail with dignity; to disappoint another, to avoid succeeding at all costs without feeling shamed about it." What do you think are the biggest obstacles in our profession to "failing with dignity?" After all, the medical profession has long engaged in morbidity and mortality conferences, established non-punitive and confidential peer review of medical mistakes, with the goal of improved patient care.  Why do you think the psychoanalytic profession does not have any established outlets for such case review?
Rachel: I have a few thoughts on this matter. In other professions there are clear procedures and protocols that practitioners follow. Though expert discretion has its place, if something goes wrong some blame can be attributed to the procedures and protocols themselves, with revision of such guidelines occurring as a result. As psychotherapists (particularly those practicing relationally), we don't work with a text book; there is no one set of rules that we follow in our work. It is solely we—with our own psyches—who are present in any clinical moment. Therefore, when there are problematic interactions with our patients there is nothing to blame other than ourselves (though often we might also "blame" the client). Psychoanalysis is a very strict profession, with tight expectations placed on the analyst. Fault is easily attributed to our not having been "analyzed enough." The shame falls on us, which brings me to my observation about therapists' guilt, appearing as a recurring theme in the stories told in this book, like a scarlet thread moving between the lines. Imagine if I, for instance, chose the therapeutic occupation in order to "do well" and redeem my unconscious guilt. How could I then face another fault for which I might be responsible? The omnipotent rescuer position, combined with the embedded guilt underneath it, make it very difficult for me to face any actual failure that might occur. The bottom line is that it is all about our positioning. A humble therapeutic position, along with the idea that some failures are actually inevitable, greatly improve our ability to face our faults. As Asaf mentioned earlier, the relational field actually fosters this frank and humble position, more than ever. So we might say that this is another contribution of relationality!
Asaf: This is a very important question, Christina. There is a lot to be said about it, and Rachel brought up some important points. I would like to only add one, which emerged in the conversation with Muriel. She was talking about her anger with a former client, and I tried to understand what she was angry about. "You see," she said, "he denied me my right to be good." Alongside the question of therapeutic failure, we can ask what it means to be a good therapist. I believe that "good" is not necessarily the same as efficient or successful, but often has more to do with our human desire to be perceived by our clients as good. That is, our self-perceived goodness is dependent on our clients' perception of us as good. In that respect, "good-enough clients" are those who are attuned to our need to be good, something I do not completely condemn at all. A complete lack of client attunement to the therapist/analyst can take the juice out of our wanting to help. So, coming back to your question, I postulate that we, as a profession, are particularly vulnerable around our desire to be good. We don't want to be "bad," and, unlike medical doctors, it is not acceptable for us to emotionally dissociate. I was shocked when Muriel stated her desire to be good so calmly and so openly, with so much self-acceptance. It taught me a lot.
You invite readers to engage your book—especially the sections in which particularly personal material is revealed—with "kind eyes and kind heart." That is a lovely request. I'm wondering what response you have received upon the publication of your book?  Have you found that your readers have reacted with kind eyes and hearts?
Rachel: Definitely. Therapists who have read it have found their pain, self-doubts, and mistakes spoken of by another person. The humble, frank, and exposed writing of our contributors actually triggers within readers a process of opening their hearts to the writers, as well as to themselves. We sure hope that it will help to reduce anxiety levels in therapy rooms.
Asaf: I received a lot of responses when inviting writers to contribute to this book. Our request was unique, but felt right. We asked our contributors to open their hearts, not just their minds, an openness that deserves our respect and honor. Rigor and kindness need not be mutually exclusive. It felt important to ask readers to engage the book and its contributors with kind eyes as well, in the hope that they would then turn the same kind eyes inward.
What clinical and writing projects do you have lined up next?  
Asaf: Well, in about two months, a book I co-edited with Noa Oster and Liron Lipkies, Speaking of Bodies, is coming out (Karnac). It is an exciting project in which we brought together therapists and non-therapists to speak of different aspects of the body in therapy and everyday life, including the following chapters:
The rhythmic body: Steven Knoblauch writes alongside eminent jazz guitarist John Scofield (who just won a Grammy award this year), speaking of improvisation in life and in therapy.
The living body: body psychotherapist Silke Ziehl writes alongside active birth pioneer Janet Balaskas about birth and aliveness (and deadness).
The sensual body: sex therapist Esther Perel writes alongside master chef Eyal Shani about fantasy, sexuality, and passion (as well as food).
The body of pain: relational body psychotherapist Shinar Pinkas, along with Ladino and flamenco singer Yasmin Levy, speak of pain.
The beautiful body: relational psychotherapist Esther Rapoport speaks with fashion journalists and TV presenters Trinny and Susannah about beauty, gender, consensus, and cultural dogma.
The divine body: psychoanalyst Michael Eigen writes with Rabbi Ohad Ezrahi about body and spirit.
The psychotherapist's body: analyst John Conger and I discuss how our bodies enter the clinical space.
Besides that, there are three writing projects I am currently involved with. The first is editing a book created by our post-graduate relational body psychotherapy school in Israel; it will be called Psychosoma and will be in Hebrew. Second is Sharing a Body a book co-written with Yael Shahar, about body-psychotherapeutic perspectives on dissociation and DID (to be published by Karnac). Third is With the Heart in Mind, a book co-written with Shamit Kadosh for medical doctors, attempting to bring psychotherapeutic skills and understanding to medical practice.
Rachel: Fabulous creativity, Asaf! You should watch this guy!
Thank you very much, Asaf and Rachel, for taking the time to share your very special new book with the IARPP community!
Rachel: I would like to add that the process of editing the book was a wonderful example of the healing that comes from sharing our failures. The cognitive and emotional processing that the contributors went through was evident with each new version of the chapters. To me, it proved again the necessity of this communal expression. I believe that the whole community learns from it. Hopefully we will be less compelled to repeat previous "mistakes" and instead will be free to come up with new ones!
Rachel and Asaf: We would like to take this opportunity to thank the fabulous writers of the book. Without their willingness and openness this book wouldn't have come to light.
Thank you Christina for the interview!
Link: http://us.karnacbooks.com/product/when-hurt-remains-relational-perspectives-on-therapeutic-failure/36091/?MATCH=1
Asaf Rolef Ben-Shahar, PhD
Psychosoma
The Israeli Centre for Body Mind Medicine
103b Shivtey Israel St.
Ramat Hasharon  Israel
Email Asaf Rolef Ben-Shahar
Website: http://imt.co.il
Rachel Shalit, BA
#5 Uri Tzvi Greenberg
Tel Aviv 6937910  Israel
Email Rachel Shalit
Website: www.rachelshalit.com