Interview by Christina Emanuel (USA)
Roberto D'Angelo has recently become the president of IARPP-Australia, and, in a double honor, was recently elected to the IARPP Board.  Located in Sydney, Roberto has built on the solid foundation laid by previous leaders in that chapter, establishing new programs and opportunities for clinicians in Australia, and planning to host the 14th annual IARPP conference in Sydney next May.  This interview is a chance for IARPP members to become better acquainted with Roberto and his chapter's activities.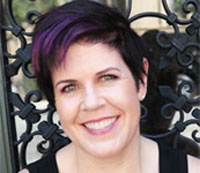 Christina Emanuel: Thank you, Roberto, for taking the time to let the IARPP community get to know you and IARPP-Australia better. Your local chapter is one of the fastest-growing in our organization, with what appears to be a marvelous community of colleagues and great plans for the IARPP conference in Sydney next year.  What drew you to IARPP in the first place, and what has been your experience participating in our organization thus far?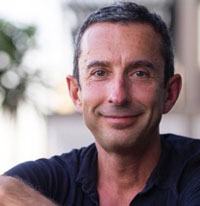 Roberto D'Angelo: Thank you, Christina, for this opportunity to share some of what is going on in Australia with the rest of the IARPP community. It's an exciting time to be involved with IARPP in Australia, because, as you say, interest in relational thinking is really growing. And of course, there is the conference in just over a year's time, which I think will really consolidate the growth of IARPP in Australia.
I was introduced to IARPP by Tessa Philips, a previous Australian IARPP board member, in 2003. She was my supervisor at the time and introduced me to Psychoanalytic Dialogues. It was just before the 2004 IARPP conference in Los Angeles. I so liked what I read. I think one of the first papers I read in Dialogues around that time was Joyce Slochower's The Analyst's Secret Delinquencies. I subsequently discovered other writing, such as the work of Darlene Ehrenberg, Jessica Benjamin, and Donnel Stern, which I found breathtaking in its power and honesty, and which became very important in my subsequent development.
I found the bravery and honesty of relational writing mind-blowing at the time. Reading explorations of the analyst's subjectivity and participation was like entering into unknown yet deeply familiar terrain. It didn't take long before I felt I had found an intellectual home.
Could you please tell us a bit about the leadership of IARPP-Australia and what the collaboration is like among your colleagues there?
I feel incredibly lucky to be the president of our IARPP-Australia committee, a group of five leaders who are committed, energetic, enthusiastic, and just plain great people to work with. In addition to myself, the committee consists of Mary Bayles, Annette Conradi, Margie Chodos, and Lyn Abery. We get on extremely well and have formed a team that almost works like clockwork around our regular program of seminars throughout the year. IARPP-Australia was previously known as the Sydney Chapter of IARPP, and previous presidents were Marianne Kennedy, Cathy Hicks, and Mary Bayles.

What are some highlights of your chapter's activities so far, and what local events do you have planned in the future?

I can't really give you any highlights, as everything we have done so far has been very well-received and has continued to build a sense of community within the Australian chapter. We are now running our video-link seminar series for the second year in a row, and have also hosted a number of visiting analysts from the UK and USA such as Phil Ringstrom, Joyce Slochower, Susie Orbach, and Sue Shapiro. I think the best thing overall about our chapter's activities is that it is providing a home for clinicians in Australia who perhaps don't feel they fit within other psychoanalytic groupings. We have attracted a diverse range of clinicians from widely varying backgrounds to our seminars, many of whom have subsequently joined IARPP after discovering the breadth and complexity of the intellectual and clinical material. We have also reached the point where clinicians are flying into Sydney from other states to be a part of our seminars. That's saying something in a country as large as Australia.
At this stage, we are planning to host Phil Ringstrom again later this year, and are collaborating with the New Zealand Chapter to include a seminar in Auckland during Phil's visit. We also have a full program of live seminars using videoconferencing technology. This year we are presenting Margaret Crastnopol, Howard Bacal, Mark Blechner, Bill Coburn, Virginia Goldner, and Avgi Saketopoulou. As you can see, our committee is going to be very busy!
I see that IARPP-Australia has started offering programs and seminars online via streaming technology.  That seems like a great idea, given that Australia is geographically distant from many of the presenters you might like to host.  Having been involved myself in livestreaming programs, I know how challenging it can be to get everything to work.  What has been your experience so far with implementing this form of distance learning?
So far, this technology has worked extremely well. Our audience gathers in a venue in Sydney and the overseas presenter is on a big screen at the front of the lecture room. We have a web-cam on our audience so that there can be live interaction. I think it is fair to say that we have had no major technical problems and each seminar has felt truly "live." We now have an increasing number of online participants who are part of our virtual audience, mostly because they live a long distance from Sydney or in New Zealand. Recently we even had some online participants from North America. We employ an audio-visual technician who makes sure everything works seamlessly. He has been essential to us, as psychoanalytic skills don't seem to help very much when it comes to being tech-savvy!
I am eagerly anticipating my trip to Sydney next May for the 14th annual IARPP conference, and I know you are enthusiastically awaiting this opportunity to introduce IARPP members to both Sydney and the psychoanalytic community there.  How are your plans for the 2017 conference shaping up so far?
We are SO excited about this conference—it couldn't come at a better time in terms of IARPP really establishing itself in Australia as a psychoanalytic presence. Our conference committee has been meeting regularly since last year and planning is well underway. We have secured a spacious venue right in the center of Sydney and are now working on how to create a conference which will feel inclusive enough to attract people from the range of psychoanalytic organizations here in Australia. We also want to make this conference feel relevant to clinicians from the countries in our immediate region (Asia and Oceania), countries that often don't have a strong psychoanalytic tradition.
We also have lots of plans to ensure that visitors really experience our beautiful city while they are here. There will be a diverse social program during the conference, and attendees will be only a few steps away from our iconic and well-known sights such as the Harbour Bridge and Sydney Opera House, art galleries, and theatres. They will also be able to visit some of the lesser-known and interesting parts of Sydney that only the locals can tell you about! And of course, after the conference, there are amazing places to visit like the Great Barrier Reef, Uluru/Ayer's Rock, wineries from the Margaret River region, the outback, and so much more. I could go on and on!
I have noticed that IARPP-Australia has reached out to psychoanalysts throughout the Asia-Pacific region in an effort to build relationships with clinicians in places such as China, India, Korea, Taiwan, and Hong Kong.  I'm wondering what response you may have received from your inquiries in Asia, and what your observations are about the state of psychoanalysis in this region.  
Yes, we have tried to make connections in this region so that we can make our Asia-Pacific colleagues aware of the conference as planning progresses. So far, there has not been a large response to our initial attempts to reach out, so if any IARPP members have contacts in these countries please let us know. I hear that interest in psychoanalysis is growing rapidly in some countries, so we really want to build relationships with our neighbors. I am aware that many analysts in the United States are participating in training and supervision with clinicians in China and Asia for example, which seems like a new and emerging frontier for psychoanalytic education.

You have recently been elected to the IARPP Board by members from around the world.  Congratulations!  Knowing you as I do, I will say that your being elected is not one bit surprising and must feel wonderful.  What has been your experience as a Board member thus far, and what contributions do you most anticipate making to our organization in your role as a board member?
Thank you, Christina! So far, my experience has only been of being welcomed by many board members and other IARPP members. My term officially began on the 1st of April, so the real work has not yet begun. I think what I can mostly contribute is my enthusiasm for relational psychoanalysis, and my passion to share this exciting way of working with as many people as possible in Australia and this region. Australia is geographically remote and I think sometimes feels far away from the IARPP "mothership" in the US. I think that my existing links with the US (through my training) and my experience creating new links for our seminars, will hopefully help Australia become a more central, active, and connected part of the IARPP community.
You and I both completed our psychoanalytic training at the Institute of Contemporary Psychoanalysis (ICP) in Los Angeles.  I used to complain about my hour-long commute from the Pasadena area to ICP for seminars, but when I realized that you were commuting 14 or 15 hours each time from Sydney to Los Angeles I stopped complaining!  How did you choose to obtain training in the United States?  I'm imagining that part of your decision had to do with the training opportunities that exist in Australia, so maybe you could say a bit about that as well.

Yes, I trained at ICP Los Angeles, and the 14 hour commute was totally worth it in so many ways. I graduated from the weekend program there in 2015, after fours years of commuting to Los Angeles for the six weekends of seminars per year. My analytic training changed how I work in ways I could never have imagined, and I also have changed in profound ways that are still unfolding at this very moment.
Why did I choose to train in the United States? I had previously completed a psychotherapy training in Australia and was already established in my own practice. I increasingly felt a need to go further in the work I was doing, and especially to understand my own responses and countertransferences that emerged in the many complex treatment relationships I found myself in. Analytic training was the next logical step. Because our population is much smaller than that of the US, we have a relatively limited range of analytic institutes in Australia. The main option for me in Australia would have been to train within a Kleinian/Bionian frame. There was no relational institute in Australia, and there still isn't. Hopefully this will change in the not to distant future.
Having discovered relational thinking, I was certain that this was the framework within which I wanted to work. Luckily, I had met people from ICP at the 2004 relational conference, and so when I was beginning to think about analytic training in 2009, I remembered the seemingly crazy suggestion they had made that I do the weekend program there. Well, it turned out not to be crazy—in fact it is probably one of the best decisions I have ever made. My partner subsequently also completed the weekend program, and another colleague from Australia has almost completed her first year of training.
What are the public's attitudes toward psychotherapy in general and psychoanalysis in particular in Australia?  What forms of treatment are the most popular?

I think very much like in the US and many parts of Europe there is a powerful lobby in Australia behind short-term therapies like CBT. Psychoanalytic treatment is often presented in university psychology departments and medical schools as antiquated, irrelevant, and certainly as lacking any evidence base. Nevertheless, there always has been and continues to be a strong interest in psychoanalysis among clinicians, who find themselves to be inadequately prepared for the complex situations in which they find themselves. Psychoanalysis opens doors that conventional training does not.
As I already mentioned, there is nevertheless, an established Kleinian/Bionian institute in Sydney, there is also a Jungian training program, and a Lacanian training program. One of the most widely known psychotherapy training institutes which has a contemporary sensibility, however, is the program headed by Russell Meares. His work is strongly associated with psychotherapy in Australia and his outcome studies are often quoted in the literature about psychotherapy's efficacy.
Tell us about you and your practice.  What type of patients and clinical situations do you most enjoy treating?  How has psychoanalytic training changed your clinical work?
I have a private practice in inner-city Sydney, in the suburb Surry Hills. It is a diverse area, with a large homeless and disadvantaged population, as well as a young, upwardly mobile and highly educated group. This area has long been known for its openness and diversity, and has one of the largest GLBT populations in Australia.
Psychoanalytic training has resulted in so many changes in my work. My original training as a psychiatrist, with its focus on diagnosis and biology, is now less and less relevant—that paradigm now in fact seems problematic to me. One of the most important changes in my work has been very much influenced especially by the work of Darlene Ehrenberg. This change involves a shift to a perspective that focuses on agency, desire, and choice and how these capacities can be closed down and, hopefully, regenerated in people through analytic work. I work with a diverse range of people such that I actually find it difficult to articulate which clinical situations I enjoy treating more than others. Perhaps this is because situations are never what they at first seem—I am always astounded by what emerges in clinical work even when it seems like I am encountering a situation I have seen before. 
Any other comments or information you would like your colleagues at IARPP to know?
I would just like to take this last opportunity to encourage all of you to put May 25 through 28, 2017, in your diaries and to begin planning your holiday to Australia! This country really has so many diverse experiences on offer. I know that you will find the long journey well worthwhile. If anybody would like to communicate with me personally, I would love to hear from you via my email, roberto_d@optusnet.com.au
Thank you, Roberto, for your generosity to IARPP throughout the year and specifically to readers of the eNews who now know you better for your having participated in this interview.  I'm looking forward to seeing you in Rome this June and in Sydney next May!
Dr. Roberto D'Angelo
PsyD FRANZCP, MMed (Psychotherapy), MBBS
Suite 33, 8 Hill St.
Surry Hills, NSW 2010   Australia
Email Roberto D'Angelo