Book Announcement by Roger Frie (Canada)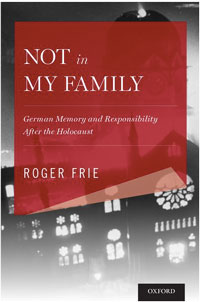 In this extraordinary and highly absorbing book, author Roger Frie confronts an unspoken Nazi history in his German family. With remarkable courage, he seeks to transform his family narrative into an understanding of the Holocaust's forbidding reality.
The son of Germans who were children during World War II, and with grandparents who were participants in the War, he uses the history of his family to explore the psychological and moral implications of memory against the backdrop of one of humanity's darkest periods. From his perspective of a life lived across German and Jewish contexts, Frie explores what it means to discover the legacy of a Nazi past.
Not in My Family (Oxford University Press, 2017), is rich with poignant illustration: Frie beautifully combines his own story with the stories of others, perpetrators and survivors, and the generations that came after. As a practicing psychoanalyst he also draws on his experience of working with individuals whose lives have been directly and indirectly shaped by the Holocaust. Throughout, Frie proceeds with a level of frankness and honesty that invites readers to reflect on their own histories and to understand the lasting effects of historical trauma into the present.
Not in My Family includes a Foreword by Anna Ornstein, a survivor of Auschwitz and author of In My Mother's Eyes: Holocaust Memories of a Young Girl.

Link: https://global.oup.com/academic/product/not-in-my-family-9780199372553?cc=us&lang=en&
Reviews:
"Searingly honest, multi-textured and beautifully written. Roger Frie's riveting exploration of intergenerational war memory and submerged guilt will be read as an instant classic."
 – Erna Paris, author of Long Shadows: Truth, Lies, and History
"Both a soul-searcher and an interdisciplinary scholar, Roger Frie asks us to face the unavoidable: how are we responsible for what we only half know, and may not have personally lived? His determined confrontation with the dark times into whose shadows and crimes he was born challenges the reader emotionally, intellectually and ethically."
– Donna Orange, NYU Postdoctoral Program in Psychotherapy and Psychoanalysis
"Not in My Family is a book of outstanding importance. Roger Frie blends personal memoir, psychoanalytic insight and deep historical scholarship. . . . This profound, moving and beautifully written work looks unblinkingly at the hidden and denied effects of Nazism. . . . This is a book for everyone who cares about the shadows cast on the present by the horrors of the past."
– Stephen Frosh, Professor and Pro-Vice Master, Birkbeck College, University of London
"This book is so remarkable because it accomplishes the nearly impossible: acknowledging German pain, while keeping in constant focus the unimaginable suffering and pain Germany inflicted. Frie ardently and generously opens his own mental processes for the reader to examine and to know. . . . It is a search for 'a lived historical truth' in himself, the truth of his beloved maternal grandfather, a member of the Nazi party, and the latter's complicity in the crimes committed by the Nazi regime."
– Dori Laub, Co-Founder of the Fortunoff Video Archive for Holocaust Testimonies and
Clinical Professor of Psychiatry, Yale University School of Medicine
"This masterful and emotional book needs to be widely read. Finding the Nazi past in his own fam­ily, Frie calls on Germans, as well as others, to feel the responsibility to remember the collective crimes of the past. He bravely shares his personal story and in so doing invites all of us to recognize how the traces of atrocity remain within us."
– Yecheskiel Cohen, Past President, Israel Psychoanalytic Society and University of Tel Aviv
About the Author: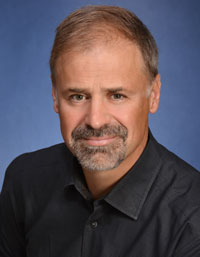 Roger Frie is a psychologist, psychoanalyst and philosopher educated in London and Cambridge. He is Professor of Education at Simon Fraser University and Affiliate Professor of Psychiatry at the University of British Columbia, Vancouver, and Faculty and Supervisor at the William Alanson White Institute of Psychiatry, Psychoanalysis, and Psychology in New York.
Roger Frie, PhD, PsyD, RPsych
Professor and Clinical Psychologist
Faculty of Education, Simon Fraser University
Affiliate Professor of Psychiatry, University of British Columbia
Email Roger Frie
Website: www.sfu.ca/education/rfrie