Clinical Implications of the Psychoanalyst's Life Experience: When the Personal Becomes Professional
(Routledge Relational Perspectives Book Series, 2014),
edited by Steven Kuchuck and available at www.amazon.com/author/stevenkuchuck.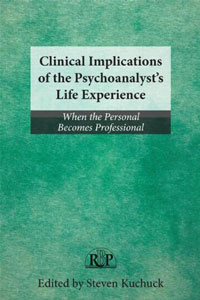 Book Synopsis:
The book explores how leaders and newer contributors in the fields of psychoanalysis and psychotherapy address the phenomena of the clinician's personal life and psychology. In this edited book, each author describes pivotal childhood and adult life events and crises that have contributed to personality formation, personal and professional functioning, choices of theoretical positions, and clinical technique.
About Steven Kuchuck:
Steven Kuchuck is a psychoanalyst and supervisor in private practice in New York City. He is the Editor in Chief of Psychoanalytic Perspectives: An International Journal of Integration and Innovation and Associate Editor of the Relational Perspectives Book Series from Routledge.
Steven is on the Board of Directors, supervisor, and faculty at the National Institute for the Psychotherapies (NIP),where he is also Co-Director of Curriculum for the four year training program in adult psychoanalysis, faculty member at the Stephen Mitchell Center for Relational Studies, the Institute for Expressive Analysis, and the Institute for Contemporary Psychotherapy in New York City, and a supervisor at the Institute of Contemporary Psychoanalysis in Los Angeles. From 2011-2013, he co-moderated and organized the IARPP online colloquium series.
Steven's professional writing appears in Psychoanalytic Dialogues, Contemporary Psychoanalysis, Studies in Gender and Psychoanalysis, Psychoanalytic Perspectives, and The Psychoanalytic Review, among other publications.  He lectures throughout the United States and internationally.
We interviewed Steven Kuchuck about his role as editor and contributor to the book.
Steve, how was the idea of editing a book about the implications of the analyst's life experience born?  When and how did you decide to create the book?
I set out to do this book as a correction to my earliest, formative experiences in psychoanalytic training at a Freudian institute.  The lessons in training were loud, clear and consistent, and they were echoed in the classroom, supervision, and in my first analysis.  Candidates were taught that no matter what, we mustn't allow anything of our own subjectivity to interfere with the treatment.  Actually, my sense is that in one form or another, this is a lesson that still permeates some graduate and postgraduate programs regardless of stated theoretical orientation, and one that exists as a professional ethos or ghost for many psychotherapists and psychoanalysts.  In this way of thinking, neutrality (and therefore burying, hiding) is believed to be the only valid option, and is to be pursued at any price.
For many of us in training and working in the field during this period, that price was high, as key aspects of our developmental histories and personalities were sent underground. The inevitable byproducts of shame, repression, and dissociation were left in their wake. By about the mid 1990's, I began hearing about a psychoanalytic metapsychology and treatment approaches in which homosexuality and other aspects of the therapist's psyche were not pathologized or automatically hidden, and in which straight and gay analysts were not afraid to share—or at least refrain from hiding—select biographical or countertransference data with colleagues and even with patients.
Some years after that, following September 11th and the resulting shared trauma for patients and analysts working together in New York City, I joined a brand new group that had formed out of the still new IARPP for purposes of studying the psychological effects of 9/11. "Psychotherapists for Social Responsibility" was formed and led by some of the founders of the relational movement. I now had a language and conceptual framework to more fully process the deleterious effects of earlier training and life events that had been exacerbated by my experiences at the institute.  It was during this period of the mid to late 1990's and especially, the early 2000's, that my idea for this book began to germinate. When I approached Lew Aron and Adrienne Harris, co-editors of the Relational Perspectives Book Series at Routledge, they were most supportive.
What is the main message that you hope your book will send?
Actually, I believe that the book title really says it all–in psychoanalysis, the personal and professional necessarily converge.  Moreover the subjectivity of the analyst, rather than being problematic, is a crucial part of the treatment process.
We relational psychoanalysts have sometimes been criticized for going too far in the opposite direction of classical theory and privileging the analyst's subjectivity over the patient's. While I assume that most of us  do still believe in providing as protected a space as possible for the patient, not the analyst, to exist as the focus of attention, I—we—have learned in recent decades that when we try to stifle our subjectivity, we make inaccessible (often dissociating from) vital parts of ourselves. These potentially lost cognitions and affects are ones that we need contact with in order to feel and better understand our patients' dissociated material, who we are to each of them, and how our subjectivity colors the way we experience their content.  This process of hiding and inadvertently dissociating from key elements of ourselves leads to experiences of shame layered on top of earlier developmental experiences of shame that many analysts come into the field with. Additionally, when we inevitably fail to eliminate subjective feelings or behaviors in order to achieve the stringent dictates of neutrality and abstinence still sometimes presented (or remembered internally) as true psychoanalysis, this can add to a further sense of shame and disappointment in ourselves.
A central objective for the book, then, is to create as much space as possible for bringing into the room those subjective elements which had been banished for many psychoanalytically informed psychotherapists.  In my experience, introducing these formerly "forbidden" contents of the analyst's psyche greatly enhances the therapeutic action. The myth of the always even-keeled, "healthy" healer of the "sick" patient, even when consciously repudiated, not only leads to the aforementioned loss of clinical data and feelings of shame, but also weighs heavily in ways that can even, over time, contribute to a loss of passion and professional burnout.
What is the outline of your own chapter in the book?
In my introduction and more specifically in my chapter, I trace the evolution of my thinking about the relationship between the analyst's subjectivity and therapeutic action by examining certain early historical and later life events and how they have influenced the way I work.  I share a situation in which a patient shocks me with a disclosure that threatens to cross the line between my personal and professional lives. This event sets me reeling, and it highlights the circular, interpenetrating nature of our life in and outside of the office. I present the story as a framework for how we might think about issues related to the clinician's subjectivity and the many ways in which who we are leads to theoretical predilections and choices of technique.
What is your perspective regarding therapist self-disclosure in light of your understanding that the therapist's life experience has implications for therapeutic process and outcome?
This is a very interesting question to me, in large part because when I invited contributions, wrote my own sections, and edited the book, I didn't consciously think about (deliberate) self disclosure as something that was directly related to the book's thesis.  Certainly, I've given a great deal of thought to the role of inadvertent disclosure as it relates to the theme of my book, and a number of the contributors address this dynamic.   Since publication, however, I've found that readers do in fact link the two—deliberate self disclosure and the impact of the therapist's life experience on the therapeutic process– and audiences at book events almost always raise a version of this question for discussion. This has led me to give further thought to the issue. I feel grateful to be working from a theoretical framework that does propose occasional self disclosure as a possible treatment option. Having said that, perhaps because of the lingering influence of my strong and early Freudian training or a particular sensitivity to privacy and boundaries (as related to self and role differentiation that I write about in the book), it's a tool that I rarely call on.  Most of us would agree that whether or not to disclose is almost always a potentially complicated choice. Popular misconceptions aside, I suspect this selective and limited use is true for many of my relational colleagues as well, although some people are more comfortable working this way than I am.
I do, however, want to underline the importance of the analyst's disclosure to her or himself, rather than to the patient. That might speak even more to the point of your question. In my book, the contributors and I are primarily concerned with the problems that arise when the therapist ignores rather than "discloses" to oneself aspects and implications of history, life events, and psychology. Margaret Black (in a personal communication) articulated a point that I have been thinking about for some time. Perhaps the very act of silently weighing whether or not to disclose something to a patient opens up material that the analyst might otherwise have dissociated.  This is a fascinating area that relates directly to the importance of making more room for the analyst's subjective life, even if not always spoken out loud to the patient.
Can you share a meaningful experience or challenge around editing the book?
There were so many of each.  My plan for the book was to create something different than the kind of writing that most of us are used to doing or reading in a psychoanalytic book.  As therapists, we are of course more familiar and comfortable with actively exploring other people's stories – this project left most of us, I think, feeling more vulnerable and exposed than we are used to feeling in our professional lives. But while I actively sought compelling personal stories, my primary interest was in exploring the specific, particular ways in which these stories impacted development of theory and practice technique. This involved striking a delicate and sometimes elusive balance between memoir and more scholarly, theoretical writing.
While it was quite meaningful to me in various, specific ways to work with each of these talented authors, there was something particularly poignant about working with Martin Bergmann on "Psychoanalysis in Old Age".  At almost 100 when we worked on his chapter, I found his comments about changes in the field and the specter of death that hovered over him and his patients very moving. He passed away less than three months after the book's release, still practicing and writing just shy of his 101st birthday.

What is the next writing project you are involved in?
Currently, Adrienne Harris and I are co-editing "The Legacy of Sandor Ferenczi: From Ghost to Ancestor", a follow up to the monumental book that she and Lew Aron co-edited, "The Legacy of Sandor Ferenczi". The book will contain exciting new work by a select group of international Ferenczi scholars. Continuing the theme of the analyst's subjectivity, the contributions reveal brand new information about Ferenczi, his patients, and some of the personal origins of his technique. A number of the chapters also explore the direct link between Ferenczi's work and contemporary ways of thinking and working psychoanalytically. The book will be published by Routledge's Relational Perspectives Book Series.  I am also working on a collection of my own writing about the analyst's subjectivity.