By Alejandro Ávila-Espada (Spain) and Sandra Buechler (USA)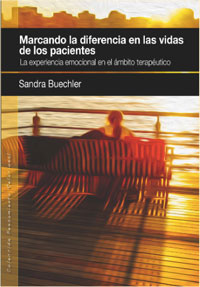 El libro de Sandra Buechler, Marcando la diferencia en las vidas de los pacientes: Experiencia emocional en el ámbito terapéutico, publicado originalmente en 2008, ha sido reciente traducido al Castellano (Ágora Relacional, 2015), con un prefacio de Alejandro Ávila Espada, y una nueva introducción por Sandra Buechler.
Este libro expresa la creencia del autor de que, a pesar de las diferencias teóricas y personales, los clínicos generalmente tienen algo muy importante en común.
Elegimos nuestra profesión, en parte, por lo menos, porque queríamos tratar de marcar una diferencia en las vidas de otros. En este libro Sandra Buechler se expresa la esperanza de que todos podemos reconocer este propósito común. Todos queremos ayudar a las personas acceder a sus capacidades para la alegría, el asombro, la curiosidad, el amor y la capacidad de recuperación emocional. Queremos ayudar a las personas que sobrellevan tristezas, ansiedades y ultrajes de la vida. Queremos implicarnos con las personas que están tratando de curar su vergüenza, la culpa, el arrepentimiento, y los daños causados por un traumatismo. Y, tal vez sobre todo, queremos fomentar el talento de la nueva generación de clínicos, para que puedan marcar una diferencia en las vidas de los pacientes.
Específicamente, ¿cómo funciona empáticamente un clínico con la vergüenza, la pena, la alegría, la tristeza o la ira, a medida que surgen en el tratamiento? Cada una de estas emociones se aborda en un capítulo específico. De manera más general, el libro se interroga sobre lo que el clínico necesita para desarrollar una relación de tratamiento, fundamentalmente curativa.
La última sección del libro está dedicada a la formación. La tarea de convertirse en un analista se divide en sus aspectos cognitivos, emocionales e interpersonales. En capítulos específicos se explora cómo estas fortalezas pueden ser nutridas, para que la próxima generación pueda desarrollar la capacidad de marcar una diferencia en las vidas de los demás.
La Serie Pensamiento Relacional editada por Ágora Relacional en Madrid (España) alcanza con este el volumen nº 14.  Más información sobre la edición en castellano, y sobre la serie, puede encontrarse en http://www.psicoterapiarelacional.es/Publicaciones/Marcandoladiferenciaenlasvidasdelos.aspx
y está disponible a través de www.amazon.es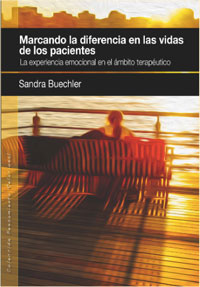 Sandra Buechler's book, Making a Difference in Patients' Lives: Emotional Experience in the Therapeutic Setting, originally published in 2008, has been recently translated into Spanish (Agora Relacional, 2015), with a preface by Alejandro Ávila-Espada, and a new introduction by Sandra Buechler.
This book expresses the author's belief that, despite theoretical and personal differences, clinicians generally have something highly significant in common. We choose our profession in part, at least, because we want to try to make a difference in the lives of others. In this book Sandra Buechler expresses the hope that we can all recognize our common purpose. We all want to help people access their capacities for joy, wonder, curiosity, love, and emotional resilience. We want to help people bear life's sorrows, anxieties, and outrages. We want to partner with people who are trying to heal their shame, guilt, regret, and the wounds inflicted by trauma. And, perhaps most of all, we want to nurture the talents of the next generation of clinicians, so that they can make a difference in patients' lives.
Specifically, how does a clinician work empathically with shame, regret, joy, grief, and anger, as they arise in treatment? Each of these emotions is discussed in a separate chapter. More generally, the book asks who the clinician needs to become in order to develop a fundamentally healing treatment relationship.
The final section of the book is devoted to training. The task of becoming an analyst is divided into its cognitive, emotional, and interpersonal aspects. In separate chapters it explores how these strengths can be nurtured, so that the next generation can develop the capacity to make a difference in others' lives.
The Relational Perspective Series, edited by Ágora Relacional in Madrid (Spain), has now published 14 volumes. More info on Spanish edition can be found at http://www.psicoterapiarelacional.es/Publicaciones/Marcandoladiferenciaenlasvidasdelos.aspx and is available through www.amazon.es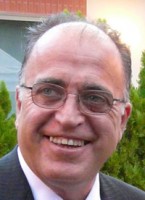 Alejandro Ávila-Espada, PhD
Ágora Relacional
Alberto Aguilera, 10 – Esc. Izqda-1º
28015-MADRID (SPAIN)
Email Alejandro  Ávila-Espada
website: www.psicoterapiarelacional.es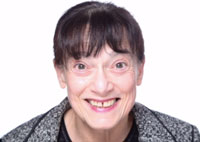 Sandra Buechler, PhD
155 West 70th Street, 11F
New York, NY 10023
Email Sandra Buechler