By Joan E. Sarnat (USA)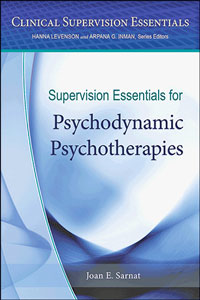 In Supervision Essentials for Psychodynamic Psychotherapies (APA, 2015), Joan E. Sarnat describes a model of clinical supervision that is based upon relational psychoanalytic thinking. While some clinicians treat the supervisory relationship as entirely distinct from the supervised therapy, Sarnat presents a straightforward and ethical framework within which a supervisor may apply his or her clinical skills to working directly in the supervisory relationship, thus helping supervisees navigate their emotional responses to clients and develop their therapeutic capacities. Chapters cover the theoretical and empirical basis for a relational model of supervision, and offer specific recommendations for addressing typical problems encountered by beginning, intermediate, and advanced supervisees. The model's contributions to working with difference in supervision and to strengthening the supervisor's ethical compass are also explored. The book includes an analysis of an extended transcript of the session on the author's companion DVD, as well as multiple vignettes taken from her work.
Link: http://www.apa.org/pubs/books/4317395.aspx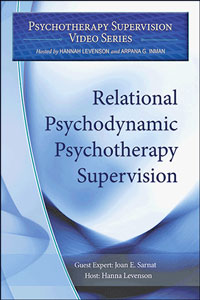 Companion Video: In Relational Psychodynamic Psychotherapy Supervision, Joan E. Sarnat demonstrates and discusses her approach. The goal of relational psychodynamic supervision is to create an experiential, participatory, and relationship-focused way of working, one that not only provides usable psychotherapeutic knowledge and skills, but that also facilitates the emotional and relational development essential to becoming an effective psychodynamic psychotherapist. In this video, Sarnat and her supervisee engage in a supervisory session, and host Hanna Levenson interviews them about their work together, exploring the constructs of this model and the nature of the supervisory relationship. In the session, Sarnat's supervisee conveys that she is frustrated by how her client is discounting her during the termination phase of therapy. By becoming aware of and working with her own feelings of frustration in the supervisory session, Sarnat demonstrates the art of using supervisory enactment and parallel process to help a supervisee increase her self-awareness and thereby deepen her work with the client.
DVD. Approx. running time: 100 minutes. Closed captioned.
Link: http://www.apa.prg/pubs/videos/index.aspx.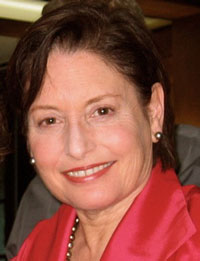 Joan Ellen Sarnat, PhD, ABPP, is a psychologist in private practice in Berkeley, California. She is a personal and supervising analyst and a member of the faculty at the Psychoanalytic Institute of Northern California. Dr. Sarnat has co-authored, with Mary Gail Frawley-O'Dea, The Supervisory Relationship: A Contemporary Psychodynamic Approach (Guilford Press, 2001).
Joan E. Sarnat, PhD, ABPP
3030 Ashby Ave., Suite 109b
Berkeley, CA 94705
Email Joan Sarnat